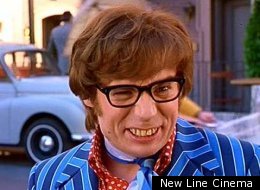 You likely haven't thought much of Austin Powers and Dr. Evil since 2002. But some of us remembered. Some of us checked
IMDB
at least once a month to see if there was any news on the rumored fourth AP film. Some of us have to make sure our pinky finger stays away from our faces when we hear someone say, "One million dollars." Some of us had a Dr. Evil poster hanging on our dorm room wall during our freshman year of college.
I mean, I don't know such people. I'm just, uh, pretty sure it had to have happened.

Anyway, enough time has passed for us to forgive the less-than-spectacular third installment that was Goldmember. And we're ready for more. Which is pretty convenient since finally, FINALLY, Mike Myers has supposedly signed on for this next Austin Powers installment.